Lust Doll Plus r53.0 released to public!
---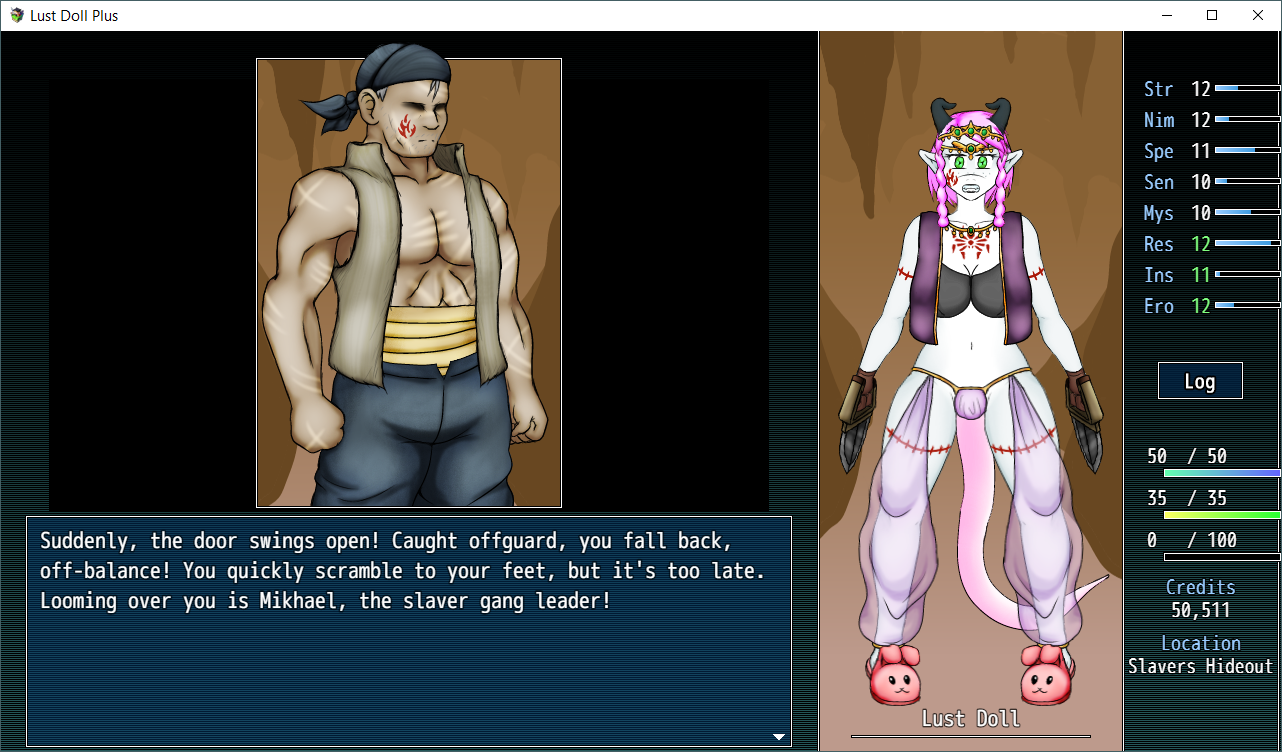 Lust Doll Plus r53.0 is now out!

Note: This is a smaller release than usual, as I was very sick with Covid last month, and lost a lot of time to work on this while I was recovering.
Also note that clearing the slaver hideout will remove Cassie from the safehouse for the time being.
53.0
-Added events for slaver hideout
-Fixed exposed shibari rope not being considered indecent
-Changed to allow being captured in slaver house even if convinced them already
-Fixed sneaking into slave house not triggering event
Files
Lust Doll Plus r53.0 (Android).apk
244 MB
18 days ago
Lust Doll Plus r53.0 (Linux).zip
342 MB
18 days ago
Lust Doll Plus r53.0 (Mac).zip
434 MB
18 days ago
Lust Doll Plus r53.0 (Win).zip
299 MB
18 days ago
Comments
Log in with itch.io to leave a comment.
how can defaet the plantgirl?
There isn't any tricks to it. You can either convince her, or trap her with Nymosa's help!
Am i doing something wrong? I follow the map and can't find the hideout
Have you taken the map on the second floor of the slavehouse?
Pls add more bottom femboys
You get it, I'm glad there's some femboy lovers here
Why do you love them if they drive u crazy
Also just when in the update going to come out
Hey glad to see you doing better
Im glad your feeling better i actually found this game long ago and saw eventually that you posted on itch.io and have been a fan ever since covid sucks but im glad you kicked its ass hope you continue feeling better keep your head up trooper also more femboys? plz lol but seriously thanks for making an awesome game
And more male love interests in general
who keeps downvoting. No one is forcing u to play with male partners
Thanks, and yes, I am planning more femboys down the road!