Lust Doll Plus r47.1 released to public!
---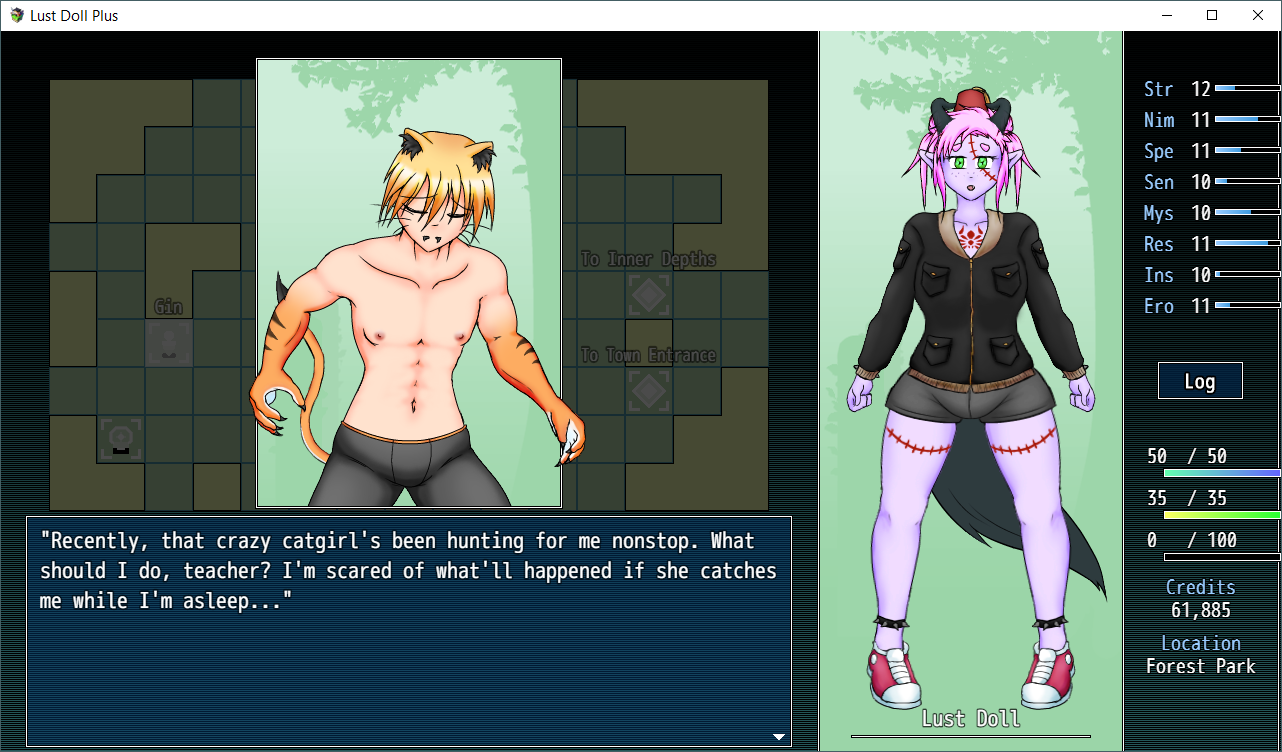 LD+ r47.1 is now out!
Note that certain clothing items have been moved to the desert town, which isn't accessible yet! If you want access to these clothes, make sure you pick them up before updating! Check the changelog below for details on which specific clothes have been moved.

47.1

-Moved Sleeveless shirts, Flip-flops, Fezs, Visors, all Sandals, Wide brim hats and Aviator sunglasses to desert town
-Moved Windbreakers and T-shirts to athletic wear shop
-Moved Ninja mask, Fox masks, Wide bowl hat, Forearm guard, Ornamental katana and Straw Cone Hat to Temple
-Fixed interactions with Gin on Island
-Fixed leaving Rinny in pillory stocks
-Fixed Rinny being able to lewd non-lewdable enemies
-Fixed Bell losing collar after stripping
-Fixed Marin not returning from basement
-Fixed graphical glitch when training Gin
-Fixed hypersensitive nipples interaction with living bra when playing flute
47.0
-Added to Gin's route
-Added Gin to Island
-Added to Bell's route
-Added Cassie Pillory Stocks domme scene to private dungeon
-Added Rinny Pillory Stocks to private dungeon
-Added a fridge and heater to appliances store in UNA
-Added scene for using lust tonic on Rinny while she's got auto-cocksleeve on
-Added shop to change mouth/teeth in UNA
-Changed Island to only require 3 points to win
-Increased effectiveness of ero attacks on Island
-Fixed certain NPC attacks not working on Island
-Fixed not being able to remove meat parasites if Linda isn't around
-Fixed issue with buying fridge in Science Lab Tower
-Fixed certain garments showing behind items worn on genitals
-Fixed issues with leaving Linda in private dungeon
-Fixed Alissa auto dildo/cock sleeve scenes not triggering
-Fixed scenes when using lust tonic on Rinny while she's got auto-dildo on
-Fixed bug where Fawn's card gets removed before you can give it back to her
Files
Lust Doll Plus r47.1 (Android).apk
236 MB
16 days ago
Lust Doll Plus r47.1 (Linux).zip
16 days ago
Lust Doll Plus r47.1 (Mac).zip
16 days ago
Lust Doll Plus r47.1 (Win).zip
292 MB
16 days ago