Lust Doll Plus r46.1 released to public!
---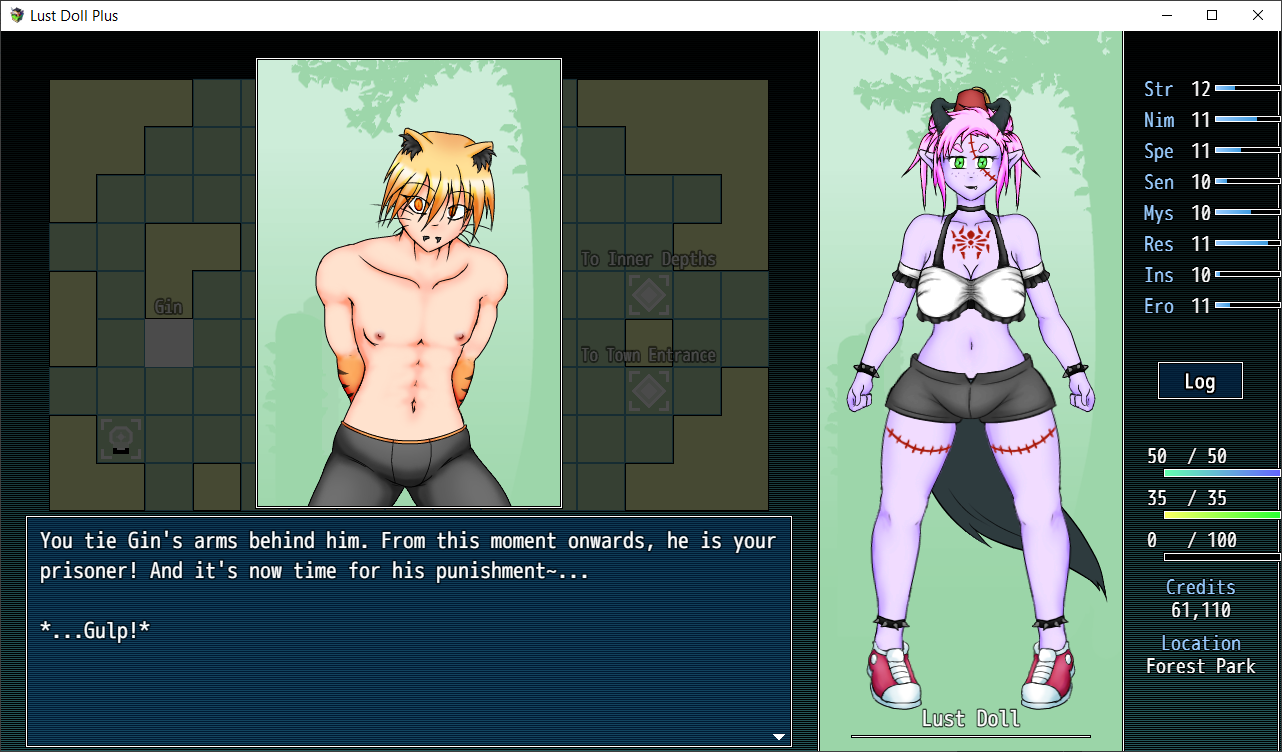 LD+ r46.1 is now out!

Changelog:
46.1
-Fixed conditions with Gin's lakeside events
-Fixed nipple and genital worn items being displaced when bent over
-Fixed spiked anklets not being wearable with hooves
-Fixed some progression inconsistencies with Gin's route
-Fixed graphical errors with Gin's clothes
-Fixed graphical issues with player using auto-cocksleeve
-Fixed kimonos indicating deceased status
46.0
-Added to Gin's route
-Added using auto-dildo and auto-cocksleeve with Alissa, and auto-dildo with Linda in private dungeon
-Added auto-dildo/auto-cocksleeve scenes when subbing to Rinny or Linda in private dungeon
-Added way to heal itchiness in village when Nymosa isn't around.
-Added sleeping spot in village
-Added healing tile in Island
-Added fezs, styled hairpins to spunky sheep shop in underground mall
-Added spiked anklets and bracelets to hot trots shop in underground mall
-Added hoodies to Lawson's clothing and hot trots shop in underground mall
-Added frilly tops to clothing shop in UNA
-Fixed looping issue with buying things in Science Lab Tower basement
-Fixed being able to lose chastity key to Fawn
-Fixed certain flags not resetting during Fawn's route
-Fixed Fawn's shibari graphics when pregnant
-Fixed Linda smacking herself around in private dungeon
-Fixed graphic glitches with Cassie when blindfolded
-Fixed only being able to masturbate with one specific dildo
-Fixed Cassie being released when releasing Alissa in private dungeon
-Fixed shibari causing the scene to not make sense in gallery party
-Regain empty bottles when making cheese
-Fixed issue with how game checks what clothes you have currently
Files
Lust Doll Plus r46.1 (Linux).zip
332 MB
Jan 29, 2023
Lust Doll Plus r46.1 (Mac).zip
425 MB
Jan 29, 2023
Lust Doll Plus r46.1 (Win).zip
290 MB
Jan 29, 2023
Lust Doll Plus r46.1 (Android).apk
234 MB
Feb 08, 2023