LD+ r44.0b is now out on Patreon!
---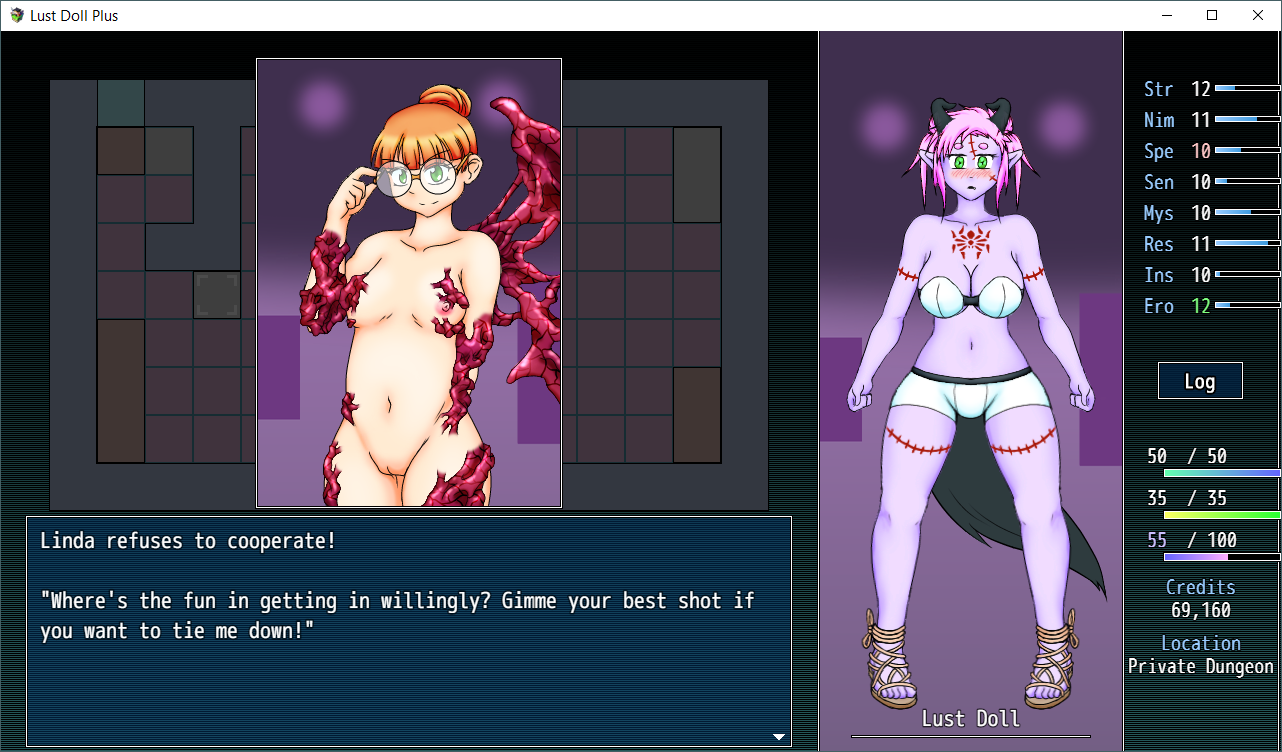 https://www.patreon.com/posts/74957573?pr=true
44.0
-Added a bit to Linda's route
-Added Linda to Island
-Added Linda to Private Dungeon
-Added pillory stocks with Cassie (player domme)
-Added cock sleeve to Naughty Kitty store in underground mall.
-Added fapping with cock sleeve and dildo
-Fixed soft lock in Camilla and Nymosa's extended bad end
-Fixed Linda's furry form tail being in front of certain outfit
Comments
Log in with itch.io to leave a comment.
when will it be out for public?
Show post...

what's inner sanctum?


i'm kinda stuck in the upper city and i don't what to do now in the story of the game :/

can i have a little help please..? (the book who is suppose to help for know where i have to go, is now saying anothing, everything is gray inside it)
Press Menu look for the "Sanctum" Button it's basically a Kink Settings Area.
Upper New Ark, only has 2 Big Arks for now, the Island, and Meeting Fawn, if everything is gray that would mean you have finished Most of everything, so go to the Slums, in the Slum Market there should be a "!" mark right beside the Bottom Vendor, ask her of what remains.
2 Mini Arks for UNA, is the Professor (Dense Mfcker) and the Twin Nurses, you get the Scene with the Professor, by getting stung Mid-Class after getting him his Bug Venom, for the Two Nurses, get Stung Before you finish the Professors Quest.
I believe the Sting Scene, is after you have finished a few Classes, and a Exam, and a class for Biology, should appear, repeat till an Accident Occurs.
actually, the scene occurs if you have the item the professor gave you that attracts them (hence why it goes to sting you in the first place). I believe it gives you a skill check to dodge it that requires a particular stat to be a specific level but I can't remember what it was or how high it had to be; I think it was the agility stat?
but if you choose not to dodge, then yeah, you end up in the hospital. you can also trigger the event even after completing the quest simply by retaking the class. and as long as you have the item each time the bug breaks free, it will try to sting you
リンダをプライベート…ふむ…
あれが出来るんだな…?
Never really thought we would get an Extension on Linda, leading to the Dungeon, hey this is a Welcome conclusion.
ohh may favourite rat is getting some attention yay
Pretty good pretty good can't wait to be released to the public