LD+ r22.1 released to public!
---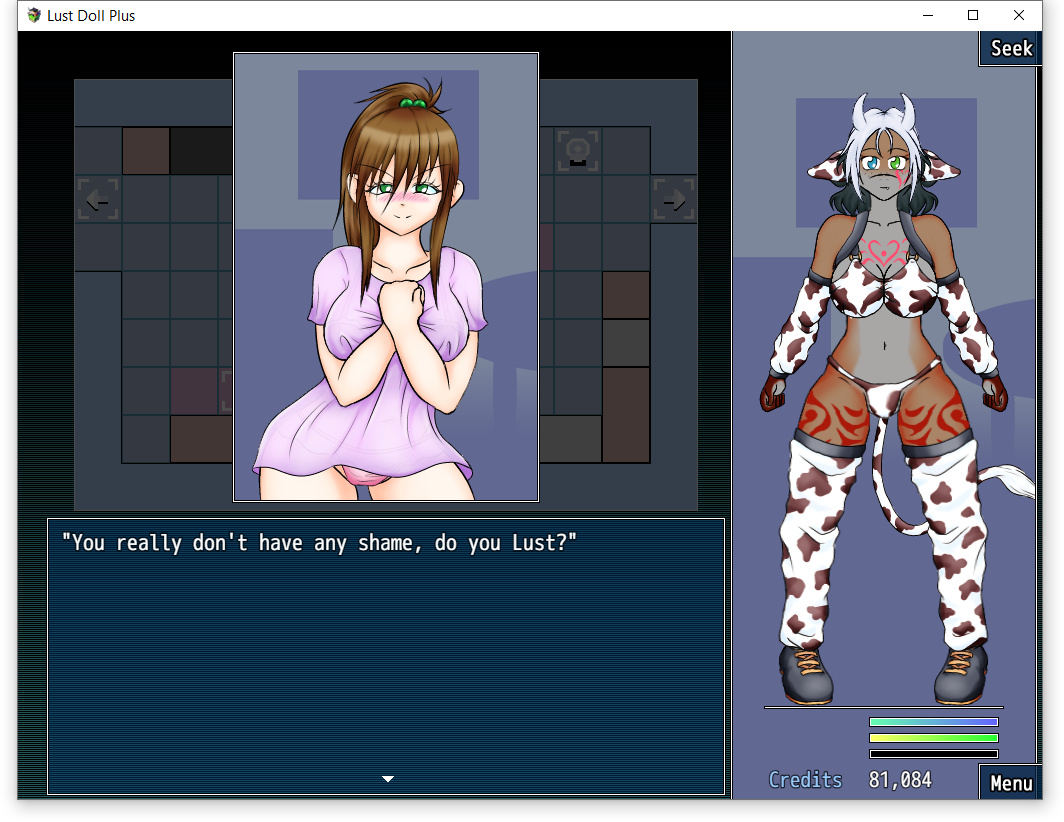 Hi everyone, LD+ r22.1 is now out!
22.1
-Fixed bug always allowing masturbation on bed in doubles condo
-Fixed bug where spotted cow ears appears as a head top ears option
-Fixed Fawn portrait bugs
-Fixed bug where re-talking to Arlene resets Fawn's story progression
22.0
-Added Fawn post-route events
-Added choosing sleepwear
-Added Spotted Cow Ears and Tail
-Can now change ear color to be independent of skin color
-Added Brown Cow clothes to Underground Mall
-Changed so that leaving a partner in private dungeon doesn't warp you back when exiting
-Moved bunch of personal settings in Inner Sanctum
-Fixed bug where if a bandit girl grows a cock, she doesn't retain it next encounter
-Fixed pregnant version of Snow White dress
-Fixed bug allowing player to take classes when tired
-Fixed bug where bathing with Cassie doesn't actually get you clean
-Fixed bug where Rinny teaches you cock growth before drain kiss
-Fixed bug where science lab tower receptionist offers m2f experiment when you're infected with meat parasites
-Fixed bug where can meet Fawn in Roxie's diner after harsh play events
-Fixed using cock growth spell in UNA summoning guard
-Revised character portrait code
-Implemented routine portrait reset, fixing certain graphic bugs
-Changed shaving pubic hairs to not consume a kit if don't actually shave
-Fixed graphical issue during Lin Lin's revenge scene
-Added dark blush for brown skin
-Setup different color text in choice windows
-Fixed bug causing choice windows scrolling to be offset in certain cases
-Fixed bug causing map border to appear over event text markers
Files
Lust Doll Plus r22.1 (Android).apk
147 MB
Feb 08, 2021
Lust Doll Plus r22.1 (Linux).zip
245 MB
Feb 08, 2021
Lust Doll Plus r22.1 (Mac).zip
337 MB
Feb 08, 2021
Lust Doll Plus r22.1 (Win).zip
203 MB
Feb 08, 2021
Comments
Log in with itch.io to leave a comment.
Im kinda lost on how to get the THICC body type can someone help?
All the way to the northwest in the forest park is a hidden area (not sure what you need to access it.) Once in there, use some bottled up fairy dust, give them a gift, and you'll be invited to play a game of chance. If you win, you can change your body type.
Just to be clear, the hidden area has nothing to do with the plant that can't be beaten.

do you do the same to get your original body back?
The thick body type still seems to have some visual problems. I noticed it first in the scene with the succubus teacher if you use the cock growth spell on her. When the character is bent forward with her arms up, the thighs don't line up with the hips. It seems like the same happens when you're in the milkers, but there it's partially hidden by the tubes.
And I have a question too, is there a chance you'll be working on more interactions when the character is pregnant? On one hand you have Sammy being extra careful when she punishes you, on the other hand the strict hand of the law doesn't seem to pull any punches when it comes to using a stun baton on a pregnant woman's abdomen. Just as an example.
Hmm, I'll look at it!
I'll probably only do such interactions with important characters. It's way too much to try and do that for every possible scenario
No, I get you. The amount of interactivity is pretty insane as is. That instance with Arlene is just particularly glaring.