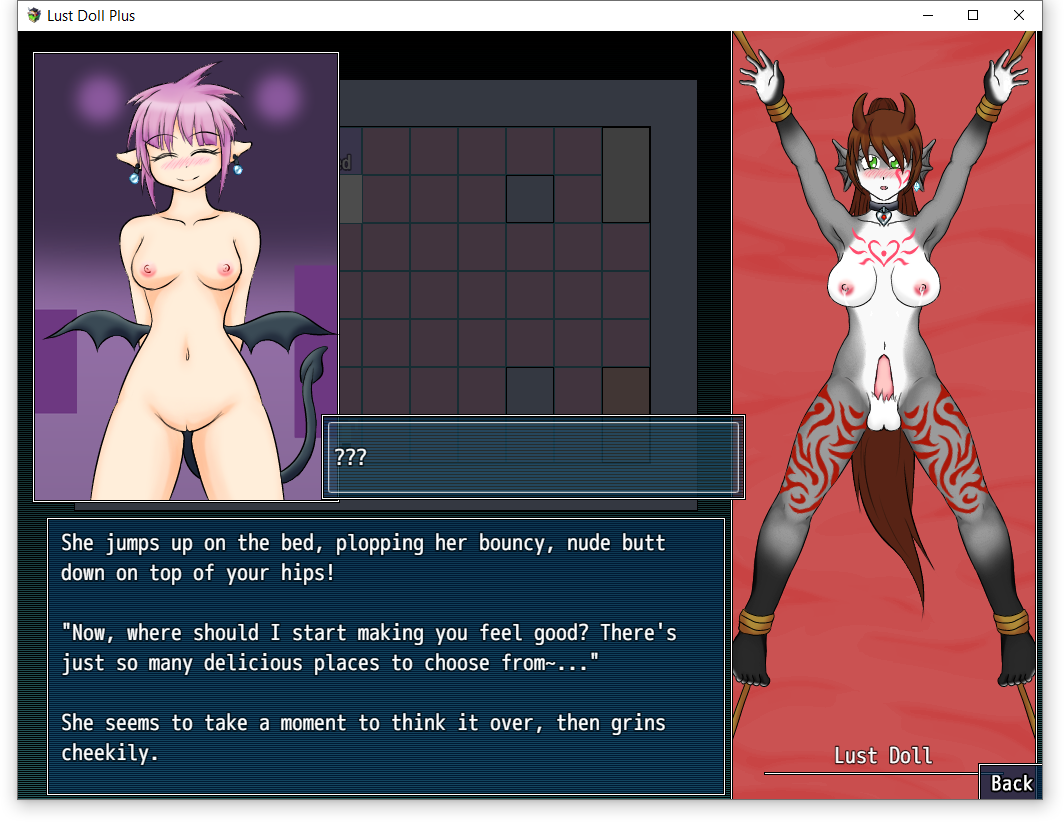 Hi everyone, here's LD+ r19.2!
19.2
-Changed homeless guy to accept food for hints
-Fixed renovation bugs
-Fixed code causing increasing slowdown/lag
-Changed buying clothes on android to show preview before buy/sell amount
19.1
-Fixed code causing increasing slowdown/lag
-Fixed bug where pregnant Rinny becomes non-pregnant when feeding Pixie's pets
-Fixed bug where lactation won't line up with breasts when doing strip show
-Converted 'Next' menu when pregnant Rinny asks for sex
-Fixed being able to capture bandit girl when Cassie isn't around
-Fixed Rinny showing up in succubus tower classroom when she can't
-Fixed bug where genitalia accessories stick around after those parts are removed
-Fixed succubus teacher growing a cock through her skirt
-Fixed Rinny in PD acting like she has blindfold on when she doesn't
-Fixed Rinny in PD acting like she has a cock while desperate, when she doesn't
-Fixed Rinny in PD stuffing her tail inside her when she's already got a dildo in there
-Fixed Mistyra bad end giving megaballs even if megacock disabled
19.0
-Added blindfolded scene for domming Cassie in private dungeon
-Can now invite Rinny to private dungeon
-Continued Gin's training
-Adjusted Gin's and Cassie's portraits
-Added Shaver & Growth Kit to Bathhouse vending machine.
-Added 3 new pubic hair options
-Most undergarments now stay on when sleeping
-Added option to block certain stats from increasing in sanctum
-Added potential balls for futa Edith and succubus teacher
-Can now hold page up/down buttons to scroll list menus
-Allow modifying stats when starting a NG+
-Implemented keyboard entry for inputting numbers
-Increased damage and cost of spells
-Revised how private dungeon works
-Revised code for toilets and baths
-Revised code for NG+, fixing being able to store clothes that shouldn't be carried over
-Fixed lock caused by sending renovators out twice to same project
-Fixed bug where loading clothing sets crashes game if missing body part to put clothes on
-Fixed bug where using Apples/Golden Apples consumed 1 too many
-Fixed Rinny preggers 2 scene missing files
-Fixed unnecessary page up/down buttons in options menu on android
-Fixed back ribbon accessory preview not being removed
-Fixed bug where escaping in deserted base removed meat parasites
-Fixed Cow and Police Top not showing when pregnant
-Fixed Cassie being locked into private dungeon bed
-Fixed cock poking through no pants shirt
-Fixed bug where can't buy black underwear from shop of horrors if should be able to
Files
Lust Doll Plus r19.2 (Android).apk
121 MB
Nov 08, 2020
Lust Doll Plus r19.2 (Linux).zip
219 MB
Nov 08, 2020
Lust Doll Plus r19.2 (Mac).zip
312 MB
Nov 08, 2020
Lust Doll Plus r19.2 (Win).zip
177 MB
Nov 08, 2020
Comments
Log in with itch.io to leave a comment.
how do i get the mystra bad end?
How do i obtain the private dungeon?
rennovate cassie's safehouse
The hardware store says that she doenst want it yet.
You have to finish her route first!
I tried a lot, how do i do that? where do i even start?
After getting her safe house, force pass the toll guy in the slums, sleep, then return there! That's the key to starting her route!
btw when is cumflation coming
?
Not too sure yet. It wasn't in the original, and right now I'm mainly focusing on porting content from there over. It'll come!
Only fix,but don't adding new stuff??Oh, well...will waiting)
Main bulk of new content!:
-Added blindfolded scene for domming Cassie in private dungeon
-Can now invite Rinny to private dungeon
-Continued Gin's training