LD+ r11.2 released to public!
---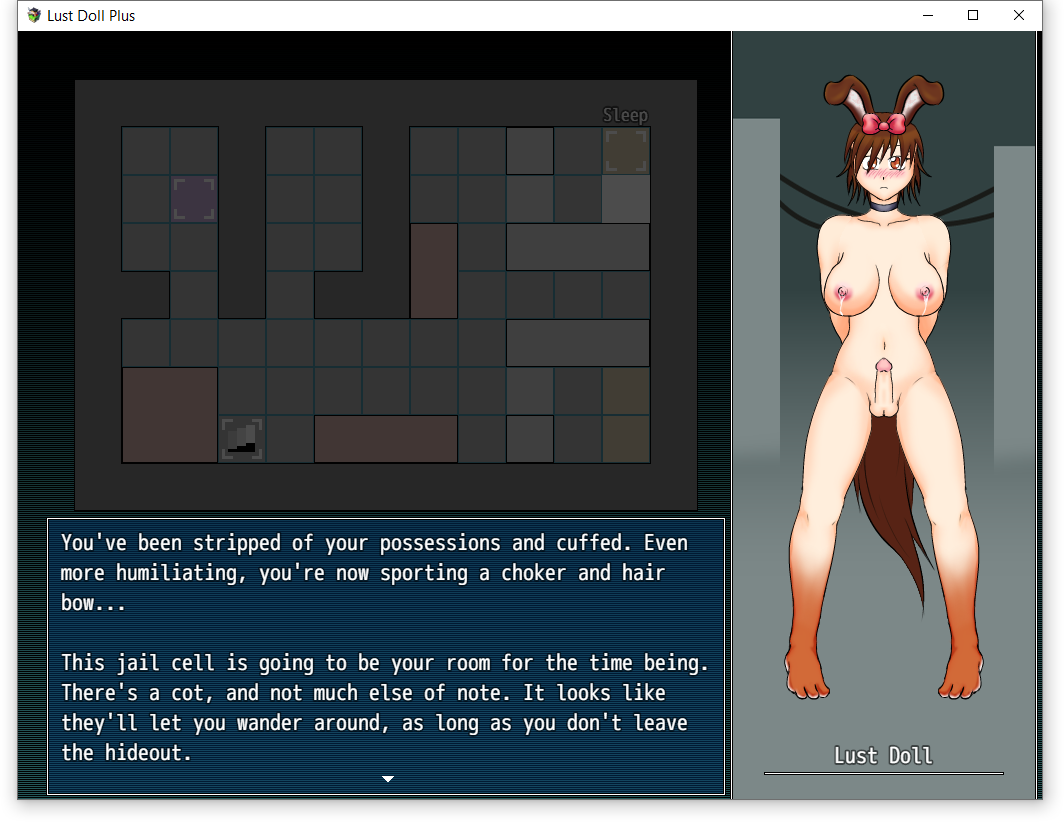 Hi everyone, updated with r11.2!

11.2

-Added warp points between city and slums after finishing Cassie's route.
-Fixed Ragged Cloak graphic not disappearing when removed
-Added a bit more direction to Cassie's route
-Fixed bug where part of Arlene's scene wouldn't show
-Piercings don't get removed when sleeping now
-Fixed cock milker going over preggers belly
-Fixed kink settings not working for bandit girl and wildcat
-Added alternate 'badass' route through Don's first talk.
-Fixed some instances of NPC's not being dressed.
11.1
-You can now give money to the starving mom and child in the slums
-Added Ragged Cloak to slums market
-Added function for deleting savefiles (found in Sanctum)
-Added balls modification to Cock Growth spell
-Added small and big balls
-Fixed bug where Edith's portrait doesn't show
-Added separators for showing money in choices
-Fixed bug where fulfilling stat requirements didn't work
-Fixed bug where a blank skill appears when learning Cock Growth
-Improved functionality of options menu
-Fixed bug with portrait during bodyguard fight
-Fixed Rinny asking you to have sex when female partners kink is disabled
-Increased size of main menu states on mobile
11.0
-Finished Cassie's route
-Fixed Cassie being nude on NG+
-Fixed bug allowing non-cancellable choices to be cancelled by touch input
-Coded method for handling static stat requirements
-Fixed parts of Arlene's portrait when fishy
-Implemented improved method for working with variables
-Fixed bug where Subbe Collar isn't removed on NG+
-Improved functionality for self-switch conditional checks
Files
Lust Doll Plus r11.2 (Win).zip
156 MB
Mar 07, 2020
Lust Doll Plus r11.2 (Mac).zip
290 MB
Mar 07, 2020
Lust Doll Plus r11.2 (Linux).zip
198 MB
Mar 07, 2020
Lust Doll Plus r11.2 (Android).apk
98 MB
Mar 07, 2020
Comments
Log in with itch.io to leave a comment.
how do you reach that place in the picture?
If I download 11.2 will I have to start again or is it a patch?
if you install a new version of any app (without deleting the previous one) you keep everything.
Is the location in the picture a place you can go into the current version and if so where could one find it
Unfortunately, that's only reachable with the backer version. Sorry, didn't realize until I'd already uploaded it.
So that will be like version r12.0 public or something like that?
I doubt it. It's the sort of thing locked behind a paywall to incentivise players to pledge to the patreon.
So I've acquired the door key to the don's lair in order to save Cassie but.. I have no idea what to do now. Every one of those options in the lair gets me captured by the don to become his "dog" and I have no idea what else to do.
You need someone else's help to save her. Try talking to other NPC's. One of them is crucial for not getting a bad end after.
I've already learnt the schedule of don's men at the uhh... sex dungeon place I somehow forgot the name of from an NPC, but I can't talk to her about it more or take her there with me.
Try talking to her at her condo instead. There's also other named NPC's, not just her!
Thanks! And sorry, I didn't get a notification like usual so I forgot to check. I actually found the solution like right after I posted that comment!
Explain. I also struggling too.
Cassie nude on NG+ sounds more like a feature 😂
I thought the same, no leave it in! Haha